We understand that your time is valuable. Even though our staff excels at creating a comfortable experience for our patients, we know there's plenty of things you'd rather be doing than spending the entire day in our office. Thanks to technological advancements, laser dentistry is a new form of treatment that increases the speed and effectiveness of dental procedures—limiting the amount of time needed to complete them.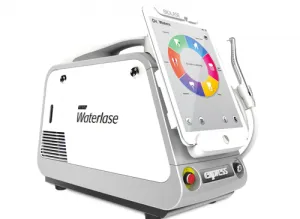 Waterlase Express is a versatile system that works with an array of treatments, letting us complete most of them in a single office visit. Beyond shortening your chair-time, this revolutionary laser system is less invasive, requiring a shorter recovery period after treatment. We are dedicated to providing you with optimal dental care while letting you spend more time enjoying a healthy smile and less time in the chair. Using the Waterlase Express system, Dr. Newman takes his exceptional dental care to the next level. Some of the benefits you can expect when receiving treatment with
Waterlase instead of traditional dental drilling include:
Crown lengthening
Osseous surgical procedures
Frenectomy
Implant bone regeneration
Gingivectomy
Removal of oral lesions
If you're curious about what laser dentistry—or any of our other services—can do for your smile, we encourage you to contact our office at (414) 427-0288 to schedule a consultation with Dr. Newman today.